The fact that I couldn't think of a creative way to start this off-season review of the Tampa Bay Buccaneers should tell you all you need to know. Where do you start with Tampa? Are you happy about a 7-9 season after a terrible 2011-2012 campaign, or frustrated at the lack of progress quarterback Josh Freeman is making and how agonizingly close the Buccaneers came to being in the playoffs?

Josh Freeman needs to be more consistent if the
Buccaneers are to be taken seriously. 
Everything comes down to the quarterback. In a draft class that included Mark Sanchez and Matthew Stafford, Freeman is still the biggest question mark in my opinion. We know Stafford has the talent, and we know Sanchez stinks, but what is Freeman? He's shown the talent (he threw for over 4,000 yards and 27 touchdowns) but struggles with accuracy (55% completion percentage, 17 interceptions) and hasn't proven he can win at this level. There are enough weapons for Freeman to succeed but now it's up to him. Film-geeks haven't been very positive on Freeman after reviewing film on him, so why should I?

If Tampa fails to make the playoffs because of Freeman's demise again, fans (Tampa Bay has fans right?) will be calling for his job, and rightfully so.
Greg Schiano and his staff need to keep building after last year's strong offseason. The Bucs offense was immediately bolstered due to the additions of Vincent Jackson and Dallas Clark via free agency and Doug Martin via the draft. There are definitely some positives to take away on the defensive side too. The young front seven that underperformed last year stepped up huge this year. Linebacker Lavonte David, in my best Jon Gruden voice, is a heck of a football player. Tampa was first in the NFL at stopping the run, allowing a measly 82 yards per game and 3.5 yards per carry. Unfortunately, the secondary couldn't be more opposite, allowing 297 yards per game, 32

nd

in the NFL.
Outside of Eric Wright, you could argue Tampa Bay doesn't have a single NFL caliber corner on the roster, and there's no guarantee Wright returns after being suspended for violating the league's performance enhancing substance policy. Cutting Wright would free up $7.75 million dollars in cap space, and would be the right move if…
a)
Tampa can select Alabama cornerback Dee Milliner or Mississippi State cornerback Johnthan Banks with the 13

th

pick in the draft…
b)
Tampa, who has one of the best cap situations in the league, shells out money for a cornerback like Sheldon Brown, Sam Shields, or Adam "Don't Call Me Pacman" Jones, OR
A combination of the three: Bring back Wright, draft Banks at 13, and sign a solid cover guy for cheap like Marcus Trufant, could also be a possibility.
The 13

th

overall pick last year received a deal of four years and roughly ten million dollars. Trufant has a base salary of 1.3 million dollars and most likely won't seek much more than that on the open market. Even if the Bucs did let Wright walk and replaced him with a solid slot corner like Marquice Cole, that's light years better than last year's secondary, and cheaper.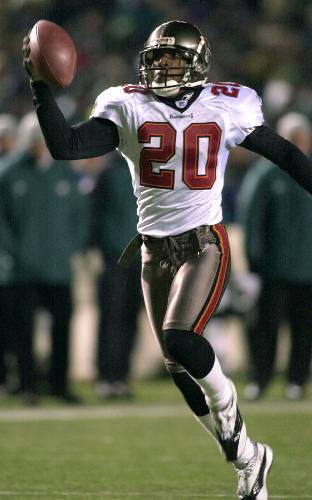 Tampa should plan as if they won't


have Ronde Barber.
The status of Ronde Barber is unknown. Barber has been a steady force in Tampa's secondary for over a decade with this year being no different, recording a +8.9 rating according to ProFootballFocus.com. Let us assume Barber retires this offseason. Does Tampa try and dish out big money for Buffalo's Jairus Byrd? They should. If not, I'd keep an eye out on Kenny Phillips, who will come with a bit of a discount after an injury plagued season.
On the defensive line, bring back Michael Bennett and Corey Irvin and don't be afraid to let Roy Miller walk. The combination of Irvin and McCoy inside should be fierce, and pray for the health of Da'quan Bowers.
This is a critical draft for Tampa. I've made it clear that Tampa should target Millinier or Banks in the first round, but if Bennett and/or Irvin hit the market and don't return, defensive lineman Johanathan Hankins might make sense. It's also time to start looking long term at tight end. Bring back Dallas Clark on a 1 year/$2.5 million dollar deal and draft a tight end in the second round like Tyler Eifert of Notre Dame or Joseph Fauria of UCLA.

Tampa can consider bringing back running back LeGarrette Blount if they want, but not for more than two million per year (Brandon Jacobs got $1.6, so $2 might be too much).

You can find lots of middle-round running backs who can average 3.5 yards per carry.
All of these ideas are good and dandy, but it still will all ride on the quarterback. Good quarterbacks win close games instead of losing seven games by an average of five points. Good quarterbacks will limit the mistakes and bring that completion percentage up to the 60's. If Tampa wants to make "the jump", it all rides on Josh Freeman. But why should I believe in Josh Freeman?