There's a lot of negative surrounding the Jacksonville Jaguar's latest 2-14 season-- two wins in four months will do that to you-- so we're going to start off with some positives that came out of 2012:
1.
The Jaguars ranked 22

nd

in pass defense. That's not too bad… right?
2.
They almost beat the Texans, who won a playoff game AND we had some fun Chad Henne moments that neither you nor I will ever forget.
3.
The Jaguars own the second pick in the NFL draft… there's always April!
The Jaguars stink. You know it, I know it, we all know it. The quarterback situation is terrible. We could be looking at a Blaine Gabbert v Chad Henne camp showdown this coming August. Their best player, Maurice Jones-Drew, played in six games and still led the team in rushing with an outstanding 414 yards.

Did I mention he might not really want to play there? Fixing the Jaguars isn't going to be a one year reclamation project, heck, even the great savior Timothy Richard Tebow can't save them. You won't get a lot of Tebow nonsense here*, instead, here are some practical ways to make Jacksonville better.
Change needs to come from the top down and that starts with former Atlanta Falcons director of player personnel David Caldwell, who is now the new general manager. Not that long ago, Atlanta was in the same position Jacksonville is-- plain bad. Five years later, Atlanta is the one-seed in the NFC playoffs. The guy clearly knows what he's doing, GREAT start to the off-season.
Can Greg Roman (left) fix the Jaguars?
Next, you have to let Caldwell pick his guy as coach. The future of current coach Mike Mularkey is understandably bleak, and it sounds like current San Francisco 49ers offensive coordinator Greg Roman might get his shot as head coach. I'm hardly qualified to say what coordinators will and won't be good head coaches-- it's nearly impossible to say-- but Roman has used all of his tools effectively in San Fran and has more pieces on the offensive side of the football in Jacksonville than one would think.
I really do like Jacksonville's young receiving core. Justin Blackmon was flat out dominant at times but needs to show that more consistently. The Jags may have found a nice catch with Cecil Shorts, who had

55 receptions for 979 yards (a ridiculous 17.8 yards per catch) and 7 touchdowns. Mercedes Lewis is a serviceable tight end and the combination of Jordan Shipley and Laurent Robinson in the slot could be worse. It's hard to get a true idea of what the running game is like without Maurice Jones-Drew, but I'm not sure how effective he would have been (in MJD terms) with the pathetic group of guys up front the Jaguars called their offensive line.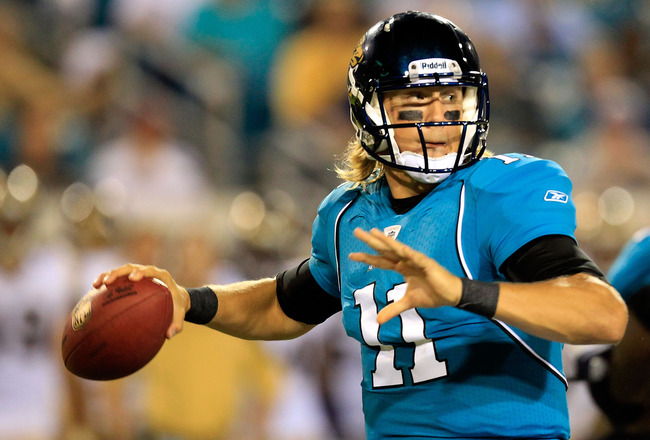 The Jaguars should do the right thing and let Blaine
Gabbert develop, not bring in Tim Tebow.
Much like what I said with Tampa Bay, it still all comes down to the quarterback play. If you want to work on improving your football team, forget Tim Tebow, that's a waste of money. You took Blaine Gabbert tenth overall two freaking years ago, and while I didn't agree with the pick, see what you have in him. By all accounts, Gabbert had a really strong offseason last year and year three is an important year for struggling quarterbacks. Not everyone is Cam Newton or Russell Wilson, sometimes it takes quarterbacks years to develop. If not, Henne will be back for one more year and played surprisingly well in some games this year (354 yards in an overtime loss at Houston!). If Roman does come in and wants to run a Colin Kaepernick-like attack, keep an eye out for Tarvaris Jackson who should come for about three million per year.
The good pretty much ends right around there. The defense was pitiful: it failed to get to the quarterback with a league low 20 sacks, couldn't stop the run, and opposing quarterbacks generally threw at will on them. Jacksonville would most likely rank at the bottom part of the league in pass defense if teams weren't running out the clock all second half.
Damontre Moore could provide a huge boost to a
lacking Jaguars pass rush.
Jacksonville figures to have a solid $22.3 million dollars in cap space, but if I'm Caldwell, I focus more on the draft and let that number grow. Take either Texas A&M defensive end Damontre Moore, Utah defensive tackle Star Lotulelei, or Florida State defensive end Bjoern Werner with the second pick. All-of-the-sudden, a Jason Babin-Damontre Moore combo becomes scary. In the second round go offensive tackle, someone like Tennessee's Dallas Thomas or North Carolina's Brennann Williams, both of which would be your opening day right tackle. Alabama's Barrett Jones is also an interesting name. Jones is solid but probably a little overhyped at this point. He can play both center and guard, and I think Jones' stock is going to fall into the late second round.
Free agent wise, Rashean Mathis posted a -3.6 this season according to ProFootballFocus.com. Let him walk and look at someone cost-effective like Kennan Lewis or Darius Butler, both of which would be upgrades. You could bring back Drew Coleman for probably half the price you did this year after injuries, and I think that would be a wise move. Dwight Lowery and Dawan Landry aren't a bad safety combination and provide some excitement for the future in the secondary. On offense, let guard Eben Britton walk and bring in someone, anyone, else. Guys like St. Louis' Robert Turner and Oakland's Cooper Carlisle would be immediate upgrades, and that's saying something.
Unfortunately for Jacksonville, the quarterback situation is bad and the draft class is worse. Just a year earlier, Jacksonville would be looking at Robert Griffin III and a bright future. Now? I think Los Angeles seems sunny enough.
*This is all I'll say about Tebow: If Jacksonville wants him, call up New York and offer a 7

th

round pick and offer to pay the $1.03 million of deferred money to Denver and that's it. Either make the Jets cut him or keep him and the circus he brings. Could Tebow help the team? Maybe… but don't overspend to do it. Fans will come with winning, and winning comes with football savvy moves.