When Alex Anthopoulos (or AA, as I will refer to him as) became the general manager of the Blue Jays I was scared, as a Yankees fan I was scared. Anthopoulos was a young kid with bright ideas and a plan coming in to run a franchise capable of becoming great. Now three years later AA has the Jays in position to challenge for a playoff spot and potentially give the AL East five teams capable of making the playoffs.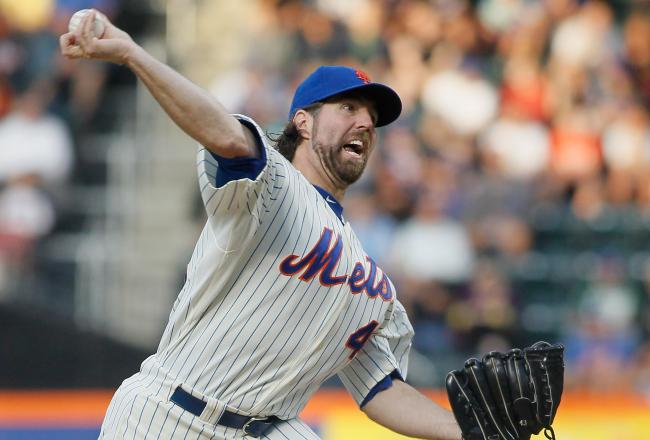 NL Cy Yong winner R.A. Dickey figures to be the ace on a loaded
Blue Jays squad.
The Blue Jays without question have won the offseason by adding six players who will either crack the opening day lineup or starting rotation including the man who was leading the majors in hitting before a PED suspension, Melky Cabrera, a former steals champion who still can wreak havoc on the base paths, Jose Reyes, and a former utility man who if given regular playing time can steal 40 plus bases a year with a good average and decent walk rate. R.A. Dickey won the National League Cy Young last year with the Mets and now will be the ace of the Jays staff, Josh Johnson was once a Cy Young candidate and if he can remain healthy he can still be a force. Then there is Mark Buehrle who started nine opening day games for the Chicago White Sox. The Blue Jays look to have a lineup that one through nine is very tough, not without holes, but tough nonetheless. When you consider that all these pieces were added to a team that already boasts Jose Bautista who is one of the most feared power hitters in the game currently, and Edwin Encarnacion and Brett Lawrie both of whom are coming off good seasons, the Jays could be set to make a run.
Last season the Jays finished 73-89 while dealing with major injuries, and some serious ineffectiveness by the bullpen. Adding Reyes, Dickey, Johnson, Buehrle, and Cabrera should certainly lead to more wins. Last season R.A. Dickey produced a WAR* of 4.6, now while it is not out of the question to see Dickey repeat this performance we must account for him moving to a tougher league and tougher division. Jose Reyes has seen injuries take a toll on his body in recent years and while he is no longer an elite shortstop he is still a major upgrade over Yunel Escobar. Melky Cabrera is only one season removed from being one of the worst players in Major League Baseball and he will have to prove his great season was not just a result of PEDs. Mark Buehrle is a good but not great pitcher who will have games where he takes his lumps and gets shelled, but also brings a lot of experience to the table. Josh Johnson only pitched to an 8-14 record last season and while the numbers back up that record, the potential is always there for him to bounce back to the Cy Young caliber pitcher he was.
The Jays need JP Arencibia to have a big season. 
While all these additions are great there are still questions surrounding other players on this team. Can Ricky Romero bounce back? Can Brett Lawrie, JP Arencibia, and Brandon Morrow stay healthy? Can Adam Lind be an effective player at this level or will his 2009 season of a 3.7 WAR be an outlier? Players like Romero and Arencibia are also not without their flaws. Arencibia strikes out at an alarming rate; we are talking strikeouts in 29% of his at bats last season with only a 4.8% walk rate. Ricky Romero's numbers for the second straight season have declined and last season he completely lost command of the strike zone, seeing his walk rate go up above 5BB/9 innings, more than a two walk per nine increase, and seeing his strike out rate drop by almost a full strikeout. He has lost the ability to strand men on base and his ground ball percentage is trending downward as well while he is giving up more fly balls. Any player can turn their career around at any point, and no roster stays the same through the whole season. Things change, players get hurt or are ineffective and sometimes you pick up that gem off the scrap heap that helps put you over the top. These questions surrounding the Jays roster will be answered soon enough.
The Jays have not been to the post season since winning the World Series in 1993 their second in a row and third straight playoff appearance. That could all change this season with a few teams expected to have down years in the AL East. My beloved Yankees are getting too old and just do not seem to have the offense there to compete this season. The Red Sox are coming off an awful season where there was dissent in the clubhouse surrounding now former manager Bobby Valentine. The Rays who have been baseballs darlings the past few years may have passed on this season for the future when they traded James Shields leaving them with only David Price to lead the staff. Then there are the Orioles who are coming off of a dream season where almost everything seemed to go right making the playoffs before losing to the Yankees in the ALDS. They can't expect everything to fall into place for a second straight season, but then again sports are always unpredictable. The AL East is wide open this season and the Blue Jays certainly are poised to be there in the thick of the playoff race not only this season but for seasons after.
No team is without questions and no player is without risks. Sports are unpredictable and baseball is no exception, any player can go from being awful one season to making adjustments and becoming a force the next season (see Jose Bautista). The Blue Jays have some pieces in place to make a run, and despite what they gave up in trades they still boast a pretty strong farm system. Alex Anthopoulos has done a great job so far with the Blue Jays in just a few years, he promised to bring this team to the playoffs and this season he may just fulfill that promise.
--Kenny Celelli, contributor
--@KCswiss1132