A certain co-host of mine likes to often point out the fact that I made very bold predictions about Cowboys quarterback Tony Romo that came crashing to the ground week 17 while conveniently forgetting he picked the Philadelphia Eagles to win the Super Bowl this year. All kidding aside, the Eagles were a popular pick to at the very least win the NFC East and possibly represent the NFC in the Super Bowl. After 2011's off-season splurge that resulted in cornerbacks Nnamdi Asomugha and Dominique Rodgers-Cromartie, a hefty new contract for Michael Vick (we'll get into that soon), and a load of expectations that led to this bomb by back-up quarterback Vince Young, a super bowl-or-bust attitude surrounded the Philadelphia.
It didn't take long to realize the "dream team" reference was one of the worst things that happened in the 2011-2012 season. The expectations were too much and the Eagles got off to an atrocious start, only to finish equally as hot and narrowly miss the playoffs at 8-8. This team has the talent, but injuries and inconsistent play led to a terrible 4-12 season this past fall. Let's dig deeper into the problems and find some solutions.
The Eagles defense is loaded with talent at some fronts and thin at others. Dominique Rodgers-Cromartie was playing with a very reasonable contract but had a terrible year, posting a -7.1 season ranking him fifth worst for all potential free agent cornerbacks according to ProFootballFocus.com. Nnamdi Asomugha signed a five year, $60 million dollar contract and has not lived up to the hype at all. Neither Rodgers-Cromartie or Asomugha have been described as worlds-class tacklers, but their tackling is poor in every way and Asomugha can't cover anybody anymore.
Players had a hard time adjusting to Juan Castillo's defense.
Scheme was a big issue in Philly, where former coach Andy Reid hired then-offensive line coach Juan Castillo as defensive coordinator. Castillo continued running a wide-9 scheme, which has defensive ends lining up a foot outside the offensive tackles outside shoulder to pin their ears back and get to the quarterback. Wide-9 puts a lot of pressure on the linebackers and safeties and asks for a lot of zone coverage and turnovers… basically all of the Eagles weaknesses in one scheme (especially after trading Asante Samuel. Knowing what I do now about the wide-9 scheme, I'm almost speechless the Eagles traded the best ball-hawking corner in the NFL). It was a disaster. Despite ranking ninth and 15
th
in passing and total defense respectively, the Eagles ranked 29
th
in points allowed per game. How does a team that's giving up 343 yards per game also give up 28 points per game? Giving up the big play. No one seemed comfortable in the wide-9 scheme to say the least, and although the Eagles struggled to produce turnovers after Castillo was fired week six, the coverage in the secondary definitely improved.
The Eagles offense is a hot mess. You've got the star names in Deseasn Jackson, Jeremy Maclin, Lesean McCoy, and Michael Vick. Brent Celek is a really good tight end and Jason Avant, Damaris Thomas, and Riley Cooper are nice role players. Bryce Brown filled in nicely for an injured Lesean McCoy, but desperately needs to work on his ball security before he finds himself jobless. It doesn't matter who you are (unless it's Tiki Barber), fumblers don't last in this league.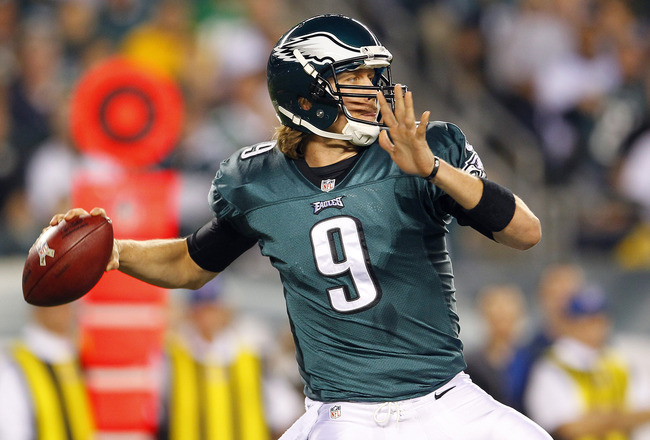 Is it the Nick Foles era in Philadelphia?
Having good position players is definitely a plus, but the two most important positions on the field were frazzled all season. Quarterback Michael Vick only played in ten games due to rib and head injuries. Nick Foles was a third round pick in last year's draft and has the size and arm to be an NFL quarterback, but his field vision and decision making are both questionable. In the seven games he appeared (six starts), Foles was average, which isn't a bad thing for a guy supposed to be a project. Foles threw for six touchdowns, five interceptions, and boasted a 60 percent completion percentage. Releasing Vick would free up an extra $12.7 million in cap space according to the Huffington Post and seems like the right choice at this time. Vick is a dynamic playmaker with a huge arm and wide receiver-like speed but too often seems to fail to read defenses and has injury concerns. The Vick era was interesting and fun (My personal favorite is the 88 yard dime to DeSean Jackson to start the Monday Night Football game in Washington) but I would say the Bills and Jets are his two most likely destinations. Releasing Vick would also free up money to extend Jeremy Maclin, who is a free agent after this season and deserves more than the three million/season he's making now.
The offensive line was bad too, but I'm really optimistic of their future. Most of the bad play was a result of numerous injuries, forcing back-ups to play and starters to play out of position. Guard Evan Mathis finally lived up- to his first round hype, playing his first full season in his career. Mathis was listed on the all NFC East Pro Football Focus team. King Dunlap played a solid left tackle this season, recording a +7.1 rating in 838 snaps according to PFF. Dunlap is a free agent, and with Jason Peters coming back after missing the season with a torn Achilles, you can let Dunlap walk. Todd Herremans will also be back. Herremans can play guard and tackle, and I would start him at right tackle and let former first round pick Danny Watkins take over for Jake Scott at right guard, who is also a free agent. Now, a Peters-Mathis-Dallas Reynolds-Watkins-Herremans offensive line is something that can produce. The key is health, which you can never predict.
There seem to be only a select few people who don't feel drafting Texas A&M tackle Luke Joeckel is a must (I'm one of them), but when you look at the board, where else would you go? At four, drafting a quarterback just seems like a waste and drafting a safety, cornerback, or linebacker would be a reach. Drafting Joeckel would likely move Herremans back to right guard and at the very least would be insurance for Peters. Joeckel, in my opinion, is every bit as good as Matt Kalil. Ideally, Philadelphia would trade back to the middle of the first round (Miami at 12, St. Louis at 16?) where they could gain more picks and get better value by taking a linebacker like Manti Te'o, Kevin Minter, or Alec Ogletree to play alongside DeMeco Ryans.
They also have the third pick in the second round and I would look safety there, maybe someone like Oklahoma's Tony Jefferson. Despite missing time, both Nate Allen and Kurt Coleman were in the top twelve in missed tackles this season. See a theme here? The Eagles defense has to strengthen up the middle.
The Eagles made a mistake keeping Dominique Rodgers-
Cromartie
and trading Asante Samels to the Falcons.
Dominique Rodgers-Cromartie is a free agent. DRC was playing for a very reasonable three million per year in his time in Philly and will probably look for something closer to five million on the open market. I'm not against Philadelphia bringing him back, but I think I would turn my efforts more towards someone like Chris Houston or Sheldon Brown, who will probably have the same asking price and had better seasons.
Finally, the Eagles are looking for a new coach. To me, you can't go wrong with an offensive or defensive minded coach. It's important to develop Nick Foles but it's almost equally important to develop a young defensive line and get as much out of the secondary as possible. I really like the idea of Ken Wisenhunt and even Brian Kelly, but my personal favorites are Seahawks defensive coordinator Gus Bradley and 49ers defensive line coach Jim Tomsula. Both are brilliant defensive minds who know how to shape out a roster and are no-nonsense, no excuses type guys. Nabbing Bradley from Seattle would be a great start to a rebuilding process.
Quite frankly, I'm not optimistic of a Nick Foles-led future. I think Foles' ceiling is no higher than that of Josh Freeman or Ryan Fitzpatrick. I'd give Foles this season to prove me and other doubters wrong and if he doesn't you have to invest in a guy you know can lead you to that ever-elusive super bowl. The talent is there, but like we're seeing in the playoffs, if you don't have that big-play quarterback, it doesn't matter. LeSean McCoy and DeSean Jackson are great talents, but they can only do so much. Vince Young claimed the Eagles were the dream team, and Mike Vick said this team has the pieces to be adynasty...