In week nine, halfway through the NFL season, Charles Tillman forced four fumbles, Brian Urlacher had an interception return for a touchdown, Jay Cutler threw three touchdowns, the Bears special teams blocked a punt for a touchdown (all of this en route to a 51-20 beat down on Tennessee), Chicago was 7-1, and the Bears were the best team in the NFL.
Yet, somehow, Chicago found themselves out of the playoffs for the second straight year, having as much of a chance to win a super bowl as the Cardinals or Panthers.
The Bears finished the season 10-6, meaning they went 3-5 in their last eight games for all you math majors out there. Jay Cutler had one of his worse seasons as a pro and continually fails to live up to his expectations as a 25 year old coming from Denver. To compact the problem, the playmakers on the offensive side of the ball are scarce to say the least and the offensive line is pitiful.
Firing Lovie Smith was the right move for the Bears.
General manager Phil Emery made the decision to fire coach Lovie Smith after missing the playoffs for two straight years and five out of the six past seasons. In fact, Chicago has won one playoff game since they're super bowl appearance in 2006. This move was criticized by many (including the players: Brian Urlacher said he was "shocked" and Devin Hester almost retired) but was the right move in my opinion. How many coaches keep their jobs after missing the playoffs five times in six years? How many coaches keep their job after a collapse like Chicago had? Smith is a great defensive mind but clearly has little grasp of how to manage an offense, as evidenced by:
a)
The inability to ever surround an extremely talented quarterback with any sort of talent.
b)
The inability to understand the concept of an offensive line and how all good teams have a good offensive line. In his eight years as Bears head coach,
Chicago
's personnel department took an offensive lineman in the first round twice. Pretty odd to address such a glaring need with very little attention.
c)
The inability to find an offensive coordinator and stick with an offensive philosophy and identity. What exactly is the Bears identity? Are they a ground and pound team? Are they a vertical, stretch it out offense? When you go through three coordinators in eight years (by the way, Mike Tice was fired this offseason, so I guess you can make it four), doesn't it begin to reflect more on the leadership of the head coach? That's what the downfall of Rex Ryan is going to be in
New York
.
So Lovie Smith is now gone and has been replaced with Canadian Football League coach Mark Trestman. You may laugh at this, but Trestman is well respected in nearly all football circles and has worked wonders with just about every quarterback he's touched. I would list them all, but it's too long so I'll assume that you'll either trust me or look it up yourself. Besides being a solid offensive mind, Trestman is even more well-known for putting together good, experienced staffs, something that was not Smith's strong suit, as I just pointed out.
There are a lot of big decisions that will directly impact the future of the Bears and it couldn't have come at a much better time. This is from Sean Jensen of the Chicago Sun-Times:
There will be an incremental increase in the salary cap to $121 million, and the Bears' combined cap number of their top 41 players is about $14.5 million under that. That includes a carryover of space from this season. According to a league source, the Bears are among the top 10 teams in terms of cap space.
The Bears have to work on long term deals on guys like Jay Cutler (assuming that's the road they want to travel, and I don't see why it wouldn't be), Lance Briggs, Charles Tillman, and Brandon Marshall. I'm not sure how realistic it is to sign everyone, and if one had to go I'm sure it would be Briggs.
Make no mistake about it though, the face of the franchise, Brian Urlacher, will dominate Chicago's media, as they decide on whether they want to bring him back (he says he wants to) or let him walk an unrestricted free agent. I think Urlacher can still play but not in a full-time role. He's certainly lost some speed with age (he's 35) and simply cannot be counted on to stay healthy. If there was ever a time to break ties with a face of a franchise as controversial free as possible, it would be now. Who could blame them? Urlacher posted a -11.2 season according to the stat-based site ProFootballFocus.com, which is good for fifth worse among all eligible ILB free agents.
I would let Urlacher walk and look to draft a linebacker with the 20th overall selection, perhaps Manti Te'o or Georgia's Alec Ogletree. If they do bring back Urlacher, I would guess that the deal would be two years with an option for a third and would have a base salary of two and a half million dollars per year with incentives that could double it, and the deal will only be that much because, well, it's Brian Urlacher.
Chicago
should also focus on tight end and offensive line in the draft. When was the last time
Chicago
had a true pass-catching threat at tight end? Greg Olsen? Yuck. Now more than ever, quarterbacks need that big, athletic mismatch in the middle of the field.
Chicago
needs to get with the time by either signing a guy like Martellus Bennett or drafting Stanford's Zack Ertz.
Obviously, the Bears needs to work on their offensive line, but I think the feeling is they're content to let their young tackles develop and could be looking for a guard. Alabama's Chance Warmack is the guard of the draft but won't make it to twenty. Look for Chicago to make a run after former Bills guard Andy Levitre, one of the best pass blocking guards in the game. If they do look tackle, Oklahoma's Lane Johnson is a definite possibility.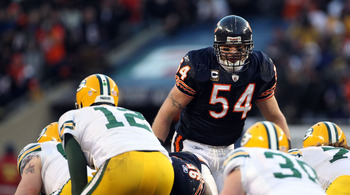 Time for the Bears to move on from the face of their franchise.
Personally, I would let Urlacher go and take Ogletree at twenty. I'd sign Levitre at guard and take a tight end in the second round, like Florida's Jordan Reed, who kind of reminds me of what Dustin Keller could have been if the Jets knew what they were doing or what Dennis Pitta is now. Reed is really good in the slot and would be another playmaker for Cutler.
Make no mistake about it though, this team will go as far as Jay Cutler takes them. Despite not having a very good line, Cutler had an awful year. Health will play a factor too: Matt Forte is one of the best backs in the league but can never go a full 16. The Alshon Jeffrey injury was unfortunate for a lot of reasons, but none bigger than the reason that it doesn't let him continue to develop into a top receiver, which he can be with his rare size and speed.
The Bears are a good team, we've seen it many times throughout the past few years where they go on good runs but can't stay healthy or consistent enough to finish it off. I like adding Trestman and the experienced staff that will come with it and I believe that with a few simple offensive upgrades the words "Bears" and "Super Bowl" belong in the same sentence for this upcoming season.
--Chris Cappella
-@C_Cappella