Tonight, the Robert Morris Colonials (16-8, 8-2) will play in their biggest home conference game of the year, as they take on the Wagner Seahawks (13-9, 7-3) at the
Sewall
Center
. Because it is a Robert Morris home game, you cannot catch it on NECfrontrow.com but can join in with Chris Shovlin on 730am WPIT. Tip off is at 7:00.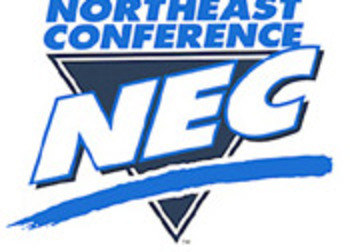 We were joined by Velton Jones and Russell Johnson on our show Thursday and learned through Jones that Mike McFadden will rejoin the team for tonights game. In my humble opinion, McFadden is not the defensive player that freshman Stephan Hawkins is, but is a much needed, reliable, low post scorer. His 57 percent shooting percentage is good for best on the team and sixth best in the NEC. At the very least, McFadden is another body that the frontcourt desperately needs, with Vaughn Morgan leaving, Lijah Thompson being gone with a torn ACL, and Keith Armstrong still recovering from a torn Achilles.
The health of both point guards, however, is a little more questionable. Anthony Myers-Pate has passed his IMPACT tests after hitting his head Wednesday against St. Francis PA. Velton Jones did not play Wednesday and gave us the dreaded "taking it day-by-day" quote regarding his right shoulder. This is a huge game, and not many are tougher than Velton Jones, so I would expect him to give it a go on at least a limited role. Myers-Pate is more than capable of playing a solid game and I've been very impressed with his play lately, but make no mistake about it, this team goes when #2 is on the floor.
Lee made an awesome point on our show Thursday. Wagner guard Kenny Ortiz, the reigning NEC defensive player of the year, could be spending a lot of time on Karvel Anderson if Velton Jones is a no-go. With Coron Williams struggling, that could put a lot of the burden on Russell Johnson and Lucky Jones. I'm not saying that's a bad thing because those two guys are very capable scorers but when you're facing a team the caliber of Wagner that can be a dangerous combination. Coron Williams needs to get going.
Wagner is a team that has been pretty inconsistent this year, especially offensively (this includes a 38-36 win at NC Central in the third game of the season), but are finally getting healthy and figuring things out. Guard Latif Rivers missed some games earlier in the season but has came back and had a typical Latif Rivers year (12 points, 40 percent from the field per game). Like I said earlier, Ortiz is a lock down defender and a capable scorer (11 points per game) but the guy Robert Morris needs to key on is senior forward Jonathon Williams, averaging 14.6 points per game and seven rebounds. Overall, Wagner is a balanced team offensively and it'll take a complete team effort defensively.
My prediction: RMU never fails in these big home games. If the students come, they will respond: Colonials win 74-70.