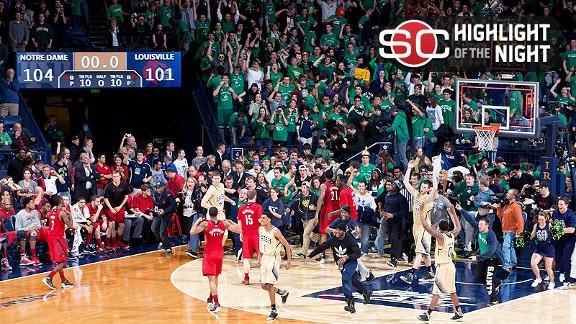 There have been a lot of "SC highlight of the night" provided by
college hoops. Expect more!
What a crazy wild ride it has been so far this year for college basketball. There seems to be so many story lines as we approach mid February. Not one team appears to have locked up a one seed and the bubble is as wide open as ever. In the one bid leagues teams are jockeying for position as conference tournaments near. As we have seen in the Northeast Conference there are so many story lines and many programs still have the dream of reaching the Big Dance. In the next month teams will continue the battle to get into the dance and it all starts this week with rivalry week. After that comes Bracket Busters, conference tournaments, and of course; Selection Sunday. Without doubt we will see more overtime thrillers, buzzer beaters, upsets, and plenty of court stormings. Let the madness begin...
(We will start this series with a look at the potential number one seeds.)
Battle for the four number one seeds:
I have been following college basketball religiously for about seven years now, and I cant remember a year in which we were approaching March, and not ONE team has the makings of a sure fire number one seed. This year, it is WIDE open. At this moment,
Duke, Miami, Indiana and Michigan
would be my selections for that one seed. Here is where things get fun. Miami still plays at Duke, and Indiana still plays at Michigan. Of course, after that we still have the conference tournaments, and they could both meet again! I can all but guarantee that these four will not be the final #1 seeds come March 17th. Syracuse, Florida, Gonzaga, Arizona, and possibly even Michigan State have a chance to make the move up.
I believe the final one seed line will look something like this. Duke's season may rest on
Ryan Kelly's foot.
Duke:
Beat Miami at home, and win the ACC tournament. Coach K knows how to win the postseason conference tournament, and if they can grab that and a win over Miami, they should be good. They also need Ryan Kelly back. Of course he will help improve the team on the court, but the selection committee will validate those early wins with him back in the fold. Without him, those wins won't carry AS MUCH weight. (Remember, Duke was the best team in the country before he went down).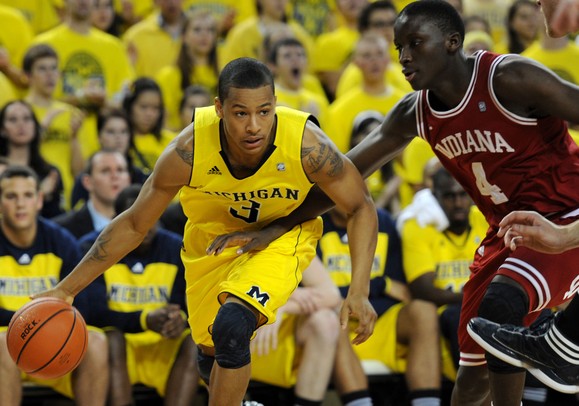 The Big 10 will have a lot to say
regarding the top line.
Indiana and Michigan:
Both should finish a top the Big 10 and it could come down to the last game of the regular season when the two renew the thriller we had last week. Their resumes are both impressive, and they will benefit from the strength of the conference. Michigan gets the nod in terms of non conference resume, while Indiana is a game ahead of the Wolverines and beat them in their head to head meeting. What is most intriguing about these two teams? The battle for the Mid-West regional. Playing close to home is a huge advantage, and the mid west regional is in Indianapolis. Who ever grabs the higher one seed wont have to travel much until potentially the Final Four in Atlanta. Right now, I think Indiana has the edge, and I expect them to keep it. The Hoosiers dominated Ohio State this past weekend, and coughed up that game at Illinois. I don't expect them to blow any more games. The team that will may have the most to say about the top of the Big 10? Michigan State. Izzo's gang still play arch rival Michigan twice, and get the Hoosiers at home. If Sparty get hot, they could find themselves on that top line. (NOTE: Indiana and Michigan State are tied for first at 9-2 while Michigan is second with Wisconsin and 8-3).
The battle for the last number one seed will be very interesting. If Miami loses to Duke and slips up against, say FSU or UVA and doesn't win the ACC tournament, they will have a tough case to make. Miami is playing as well as any team in the country but remember, they have loses to Florida Gulf Coast, and Indiana St. They also got clobbered by Arizona. I'm going to take
Florida:
The Gators have been straight DOMINATING the SEC. There was that hiccup at Arkansas but other than that, they have been rolling. They play UK at home tomorrow, and still play on the road at UK and Mizzou. Those are three quality wins to add to an already impressive resume. If they want a one seed, they have to win out, and take the SEC tournament, but they should be heavy favorites in every game.
David Stockton and the Zags will
be dangerous come March.
The team I would LOVE to see grab the last one seed would be the Gonzaga Bulldogs. That melt down at Butler likely cost the Zags this opportunity. Mark Few's team could easily finish 31 and 2, with no loses in the WCC, but they don't have any BIG TIME wins that are needed to garner the consideration. One other likely candidate; the Arizona Wildcats. If it weren't for a slip up to Cal (at home) this weekend, the Cats would be one the line right now. Their non conference resume is as impressive as anyone. Wins over Florida, Miami, and San Diego State will go a long way come Selection Sunday. The problem, the Pac 12 stinks. They already have three losses (two at home), and can't afford to take another one. Arizona probably needs to win the regular season title and make a deep run in the conference tournament. Games at Colorado and at UCLA remain, but those are probably their only opportunities to make a statement.

The Orange of Syracuse will need some help to move back up to the one line. The Big East is once again one of the better conferences in the country, but it is down compared to recent years. Four of the Cuse last five games come against teams currently ranked, so they will have an opportunity to prove their worth, but for now, keep winning and hope a few teams ahead of them slip up.

Feel free to share your thoughts one the battle for the number one seeds. Who will fade? Who will emerge? Which four will earn a spot on the top line?

---Lee Kunkel
---@Kunkel5