Ah, Valentines day! A day to show your true love and appreciation for the one (or "ones", your life, not mine) that you care about. The earliest evidence of Valentines day can go ball the way back to the 14th Century, in a poem titled the "Parliament of Fowls". The events of the poem occur on Valentines day and talk of birds, who's actions represent that of humans, finding partners.
There are plenty of things I have come to love as a sports fan. In honor of that, I have created a list. Enjoy:
I love the New York Jets. I do. I hate to admit it because there are times that I truly do hate that franchise. Tim Tebow? Seriously? Shonn Greene as a feature back? A whole season of Calvin Pace, Bart Scott, and Eric Smith on defense? Could any of them beat me in a 40? That's enough to drive anyone away. But I was caught early: Wayne Chrebet across the middle on third downs, Curtis Martin doing Curtis Martin things, the competitivness of Chad Pennington, Herman Edwards and his rants... the list could go on. Damn you Jets. Happy Valentines Day.
I think I love Kate Upton. I definitely love the SI swimsuit edition.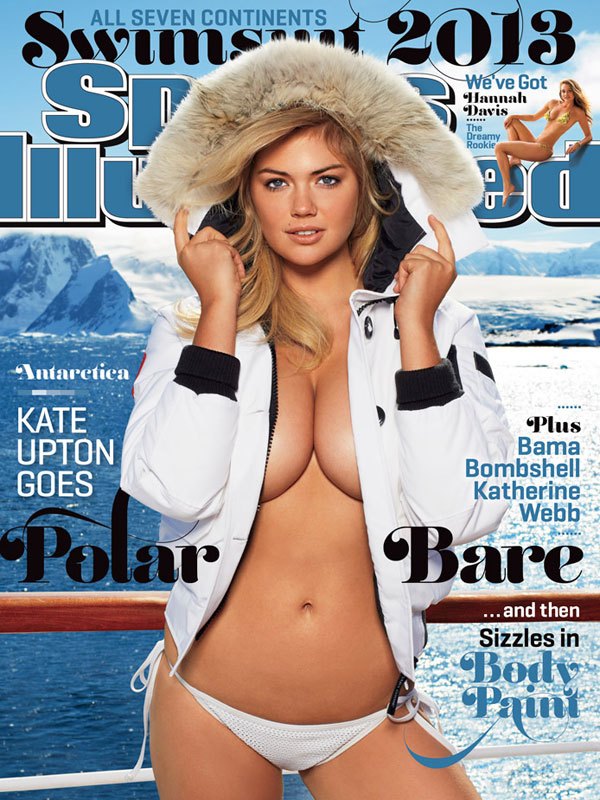 Ok, I'm definitely in love with Kate Upton, and anyone who says they're rooting for her and Justin Verlander to work out are liars.
I love Robert Morris and all the opportunities it has given me. I've been lucky enough to work with some incredible people like Mike Barker of TribLIVE radio and Andrew Chiappazzi of ColonialsCorner.com and my friend and co-host Lee Kunkel. I'm very grateful to all of the guests on our show, including the guys on the basketball team, who not only are incredible basketball players but the most respectful group of guys I've come across.
I love the the lovable group of losers that make the New York Mets. We might have missed out on Michael Bourn, but who needs an outfield anyway! (I actually think that's the slogan for this years team)
I love how much Brent Musburger loves Katherine Webb.
I love how much A.J. McCarron likes to poke at Darnell Dockett.
I love Brandon McCarthy's awesomeness. That is the best twitter fight in the history of twitter fights.
I love the crazy season of college basketball. The parity of it is ridiculous. We just had Louisville and Notre Dame play in FIVE OVERTIMES Saturday and it wasn't even the best game that day. I love that TCU can beat Kansas and Miami is good enough to host Dwayne Wade and LeBron courtside. Speaking of...
I love LeBron. There I said it. I tried hating LeBron, I really did. It was absolutely exhausting. Here's a guy who can guard anyone at any position, can run like a horse, pass like a point guard, and can post up like a big man. Stop hating and just appreciate greatness as it's happening.
I really, really, love this VISA commercial. "Patrick... I want 100 PERCENT COMMITMENT!"
I love how Kentucky players carried off Nerlens Noel after his torn ACL and how Gator fans were a class act the whole time.
I love this story by Chuck Culpepper, the best story I've read this year by far, about being a gay sportswriter and his interaction with Ravens linebacker Brendon Ayanbadejo.
I love that Ray Lewis went out a champion. You might hate him as a person and a player, but Ray Lewis was one of the most passionate guys to ever step onto a field. We'll be lucky if we ever see such a talented leader in our lifetime.
I love rivalries. Rivalry week in college basketball has been fantastic. Duke-UNC, Uconn-Syracuse, Michigan State-Michigan, Kansas State-Kansas...
I love the excitement in the air for baseball season and the World Baseball Classic. Doesn't it seem like a lifetime ago since we've had the WBC?
I love that Gus Johnson gets to call soccer games now.
I love how J.R. Smith runs possibly the best professional athelete twitter account, whether he knows it or not. You can catch Smith tweeting at all hours, taking compliments, dishing out hate, and... the misspellings. His classic "why so quite" tweet after an early season win is hilarious on so many levels.
I love this clip of Will Ferrell kicking Shaq out of a Lakers game.
I still love Tony Romo.
I love the new NBA countdown crew of Michael Wilbon, Magic Johnson, Jalen Rose, and Bill Simmons, who is the most creative man in the sports industry in my opinion.
I love all of the ESPN 30for30's, especially the Bo Jackson one.
I love Bill Walton. If you ever flip to a basketball game that he's calling, just stop and listen to it. He'll take you on one big, goofy ride.
I love that Vin Scully, at 85 years young, is coming back for his 64th season of Dodgers play by play. Scully is the greatest to ever call a baseball game and what he does is truly a unique art form.
There's so much more I could write about, like the Tyson Chandler tip backs, Mr. Met, hockey being back, the Olympics (even on a time delay), Michael Phelps still showing Ryan Lochte how it's done, the Beyonce half time show, a super bowl in the cold, Bill O'Brien, Alabama, Beaver Stadium, the Rock-Chalk Jay Hawk chant, the Mets getting a no-hitter, R.A Dickey, and others.
Sure there are a lot of things to dislike in sports right now: PED's, the mega-contracts, some of the types of "journalism" we're seeing, where the NFL is going, ESPN First Take, etc. But today is Valentines day, can't you feel the love in the air?
--Chris Cappella
--@C_Cappella