Look for Nick Toon to make an immediate impact in New Orleans offense.
Ah, day three of the NFL Draft. For every Tom Brady or Marques Colston your team takes there are 30 and 40 Patrick Henry's.

And that's the beauty of the last day of the draft, rounds four through seven:

most of the times it's a pure guess. If these guys can come in and make an impact on special teams that's great and if they can eventually be a starter for your team that's even better.
I'm definitely no Mel Kiper Jr. or Todd McShay, but I'll try to highlight some notable names and picks I liked on Saturday plus give you my favorite drafts per team in each division.
There was tons of talent in round four, but the man who I think you hear of the most in his rookie season is Nick Toon, wide receiver from Wisconsin and son of Jet great Al Toon (What? You didn't think you were going to get a Jets reference?). Toon will try and go about replacing Robert Meachem who is now a San Diego Charger. Chris Givens, a wide receiver from Wake Forrest, was the first pick of round four by the St. Louis Rams. Givens is a shade under 6'0'' and runs a solid 4.4 40. Once he beefs up in the NFL he could really be a steal and I think the combination of Quick and Givens makes Sam Bradford a happy man.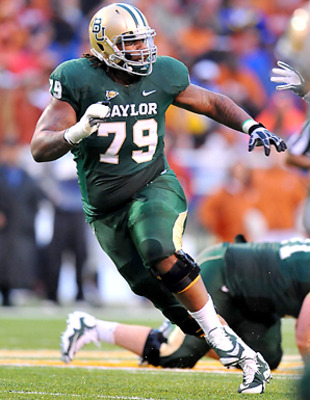 RTG300, not RGIII
I think Florida State offensive lineman Zebrie Sanders could potentially start for Buffalo at tackle if given the opportunity, which definitely is a possibility given their situation at that position. George Iloka, the safety out of Boise State, could be a solid starter for Cincinnati sometime down the road and would have started right away if it wasn't for Reggie Nelson resigning this offseason.
The Jets took Robert Griffin from Baylor in the sixth round, which is weird and funny. Griffin is a 300 pound guard and will now be called RTG300 for the rest of his career as far as I'm concerned. Mr. Irrelevant (the last pick of the draft) was Chandler Harnish, a quarterback out of Northern Illinois. Check out this incredibly awkward video of the pick and try and convince me this kid will be in the league for more than two years.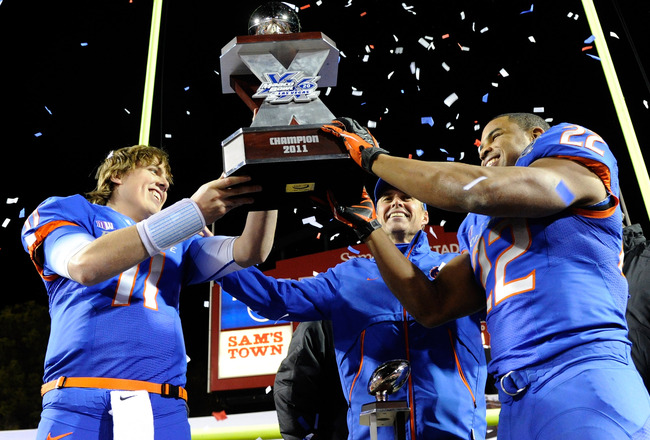 No one can dispute that Kellen Moore is a winner
I've been getting me a lot of questions about Kellen Moore not getting drafted. Am I surprised he didn't get drafted? Yea, a little. John David Booty got drafted. Brooks Bollinger and Matt Cassel got drafted. Heck, Cassel never started at USC and is still a good pro. I would have thought someone would take a flyer on the kid just because he wins. But, I can also see why he wasn't. When Shane P. Hallam of draftcountdown.com did an interview on our radio show he said there were CFL teams that were concerned about him. He's not 6'0'' let alone 6'2'' (considered to be the cutoff point for most quarterbacks) and looks like he's never hit a weight room in his life. There are some things you can and can't measure in a guy, and I guess NFL teams felt like it just wasn't worth it. Best of luck to Moore in the NFL, who will get a chance to learn from Matthew Stafford.
Vontaze Burfcict, the linebacker out of Arizona State went from first rounder to undrafted in two months, something I don't ever remember seeing before. Chris Polk, running back out of Washington University also went undrafted, which shocked me after he put up a pretty impressive senior bowl. Congratulations to Central York High School and Temple guard Wayne Trubue, who got signed by the Denver Broncos, which I believe makes him the first player from our high school alma mater to be on an NFL squad.
AFC outlook:
I do think the Cincinnati Bengals had the best draft in the AFC North, with the Steelers falling a close second. The Bengals nailed picks like Dre Kirkpatrick, Mohamed Sanu, Devon Still (once thought to be a top-20 talent, just needs to be more consistent), Orson Charles (the best tight end in the draft) and George Iloka.
The jets took some risky players with their first two picks, selecting Quinton Coples and Stephen Hill. If they produce like many think they're capable, it'll be an awesome draft and if not it'll be the end of the Mike Tannenbaum and Rex Ryan Era. I liked that Buffalo and Miami attacked their needs (though I'm not sure I like the players themselves) but I think New England probably had the best pick in the AFC East going defense, defense, and more defense.
I LOVE the Luck-to-Fleener connection Indy set up, I'm already seeing flashbacks of Manning-to-Clark. I was hoping we were going to see a more offensive-orientated draft for the Kansas City Chiefs, I just don't know if they have enough talent on that side of the ball to win a division with Peyton Manning in it.
NFC Outlook:
Awesome job by the Eagles to identify their needs (the front seven) and go after them. I think they absolutely nailed their picks of Cox, Kendricks, and Curry. Sticking in the East, I'm more confused than I am concerned with Washington's pick of Kirk Cousins. When you traded away a boatload of picks to get Griffin, wouldn't you want to surround him with position players instead of a back-up quarterback? I do not think this turns into a problem because competition is never a bad thing.
Poor Jay Cutler, hope he enjoys the turf again this year.
I doubt Jay Cutler is looking forward to another year of getting pounded behind a very sub-par offensive line in Chicago... Green Bay didn't pick an offensive player until the seventh round, so somebody is going to have to help their league-worst defense.
The Rams had a top-5 draft in my opinion, but it's hard not to when you're that bad. I look forward to seeing whether the Arizona Cardinals or Seattle Seahawks make the jump. I really liked what the Cardinals did, especially in adding quarterback Ryan Lindley out of San Diego State, who I think starts for them in the future (and if Kolb gets injured, maybe this year).