By Chris Cappella
There was definitely some normalcy last night, the first night of the NFL Draft.
Andrew Luck and Robert Griffin III
went one and two as anticipated,
Roger Goodell
was booed (again), and I received plenty of texts from friends and family alike criticizing the
Jets
first round draft pick (thoughts coming later).
But in another way, Thursday was as crazy as it has ever been. There were eight trades in the first round, four more than last year and plenty of surprises.
A few minutes before the draft began, the Minnesota Vikings and Cleveland Browns swapped picks. Cleveland moved up to three to assure themselves of Trent Richardson and Minnesota still got their man in Matt Kalil plus collected a 4th, 5th, and 7th round pick. This was a good move for both teams for a few reasons. Cleveland assured themselves of the guy they definitely wanted and still have five picks in the top 100. Minnesota's front office deserves a tip of the cap for more than likely bluffing interest in other teams legitimately trading up to three and snagging Richardson. Not only did they get the guy they wanted in USC OT Matt Kalil, but they collected some valuable mid-round picks too. I think Kalil is going to be a pro-bowler for a long time (assuming the pro bowl is, you know, still around) especially once you add some weight to his fame. Kalil is very lean but I think 20 pounds could be beneficial when facing bigger defensive ends.
I'm still not sure what to make of the
Buccaneers
maneuver to trade back with
Jacksonville
(who took
Justin Blackmon
at five) and then miss out on
Mo Claiborne
, who they reportedly loved. I don't believe anybody predicted
Dallas
moving all the way from fifteen to six to nab Claiborne in front of
Tampa
, but that's the risk you take when trading back: you may miss out on your guy.
Tampa
ended up taking
Alabama Safety Mark Barron
, a good safety, but a reach in my opinion. Claiborne to
Dallas
instantly improves their secondary, but casts a shadow of doubt on the future of
Michael Jenkins
, who all of the sudden is buried on the depth chart behind
Brandon Carr and Claiborne
.
Good for the Dolphins for grabbing their guy and finally taking a chance on a quarterback. While I'm not a big Ryan Tannehill fan (a "project" quarterback in the top-10?) at least they're going for it. I expect them to take at least two receivers in the next two days.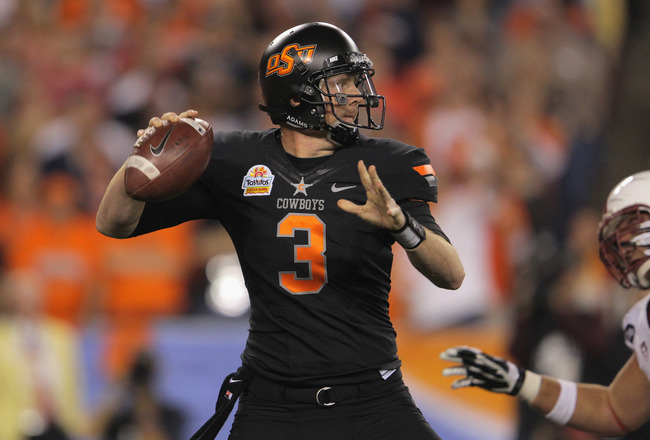 Sticking on the topic of quarterbacks, the
Browns
taking
Oklahoma
State
quarterback Brandon Weeden
was very surprising to me. By all reports,
Cleveland
had no intentions of taking a quarterback yesterday and went as far to tell
Colt McCoy
that. With that being said, I think it's a good move. While I am a McCoy fan, right now I'd take Weeden
as my starter and if you're the Browns right now getting a starting wide receiver opposite
Greg Little
is essential.
A few other notes on day one
:
Seattle
taking
West Virginia OLB Bruce Irvin
at 15 is
ridiculous.
I don't think he was ever a full time starter there. Wednesday I tweeted that if both
Melvin Ingram
and
Quinton Coples
were on the board at 16 for the
Jets
, take Coples. Too much talent to pass up on. Not a fan of
New England
trading up for
Chandler Jones
(just ten CAREER sacks at Syracuse) but trading up for
Dont'a Hightower
is a great move for their defense.
Guard David DeCastro
to
Pittsburgh
is awesome for that franchise. Everyone saw how that team played when
Roethlisberger
was injured. DeCastro is there to make sure that doesn't happen.
Day two notes
: I honestly can't believe
Alabama
stud
OLB Courtney Upshaw
fell out of the first round. Upshaw was defensive MVP of the National championship game for goodness sakes! If you're ok with
Northern Alabama's Janoris Jenkins
character issues, then you're getting a guy with a high first round grade talent wise.
Cordy Glenn
from
Georgia
is a guy I really like because of his versatility. He can play both guard and tackle immediately (did you hear that
New York Jets
?). There is actually a lot of very good o-lineman still available for choosing:
Ohio
State
tackle
Mike Adams
,
Wisconsin
center
Peter Konz
, Stanford tackle
Jonathan Martin
, Ole Miss tackle
Bobbie Massie
, and the aforementioned Glenn can all step in and make an impact right away.
Rounds 2-3 of the draft begin at 7 p.m. Friday.