Over the past season there has been a hot debate over who are the best point guards in the NBA. Point guard is one of the most important positions in all of sports. Without a man running the team it's hard to win. There are two ways of ranking PG's, who are the best right now, meaning who will help you this season, and who you would build around for the next 7-10 years. The guy that seems to cause the most discussion is Russell Westbrook. I personally do not like his style of play. He plays like Derrick Rose. One problem, D-Rose had to be THE MAN for the Bulls to win in past years. Russ does not. His team would be better if he passed way more. I hear the argument about KD being his only help. It's a load of crap. James Harden can be a 20-25 ppg guy, Ibaka could use a few more shots, and the Thunder have some of the better role players in the league. Quite frankly the guy who should be getting more attempts is Kevin Durant. He is the best scorer in the NBA. I believe a PG's job is to make his team better. At times Westbrook hurts his team more than helps. It's not every game, heck it is probably less than 10% of games. But those 10% seem to be in HUGE games (see Sunday vs. LAL or last year in West Finals). In my opinion Russ takes too many shots. He has attempted 1233 shots, and 191 threes this season! In comparison Tony Parker has 890 and 61 three pt attempts. I know they are different players, and Russ has played 4 more games than Parker but that is a huge difference! Again not saying Russ is a bad player, I just don't think he is a top 5 PG, and I think he will hold the Thunder back from winning the West if he does not facilitate more. Now onto the rankings.
Top 5 Point Guard Right now! You really cannot go wrong with any of these guys, and the order is not set in stone. All have great arguments.
1) Chris Paul--If Westbrook played like him he would be on this list. Looks to make teammates better, but knows when to take over a game and get buckets.
2) Rajon Rondo-- One of the most improved players in NBA over the past few years. Can dominate a game and not score a bucket on you. Some of his stat lines this year have been insane. Aside from Paul/Nash, he is the best passer in NBA. Does it all.
3) Derrick Rose-- Hopefully Rose will get healthy and get back to his MVP play in the playoffs. Great scorer but knows when to pass. His scoring has dropped a bit but there is a reason for this. Has more help than in years past, and trusts his teammates more. His assist are up, and he has played like a pure point a lot this year.
4) Deron Williams-- Many forget how good this guy is. He plays for an AWFUL team and still got 21 and 9 this year. Next season expect a lot more talent around him, and expect him a lot higher on this list. The Nets have the power to kill careers, but D-Will looks like he will survive.
5) Tony Parker-- Most underrated player in NBA. Most important player on the league's best team. Runs the offense to perfection, and can still take a game over. There is a reason he will finish top 5 in MVP voting.
Just missed
6) Steve Nash-- Suns have nothing and yet Nash still does his thing. 10 assist per game, and if the NBA counted "Hockey assists" he would blow the league out. A true definition of a PURE point guard.
6b) Russell Westbrook-- I have him tied with Nash. A much better scorer and an above average defender, but needs to play like a PG more. Too often he turns into a SG. I often wonder if the Thunder would be better if a guy like Nash or Parker ran the show.
Top 5 to build around next 7-10 years.
1) Paul/ D-Will-- Can't go wrong with either going forward.
2) Rose-- I want to see what he does with more talent around him. I'm a bit scared that Bulls played so well with him out, but that's only reason I put him behind Cp3 and D-Will.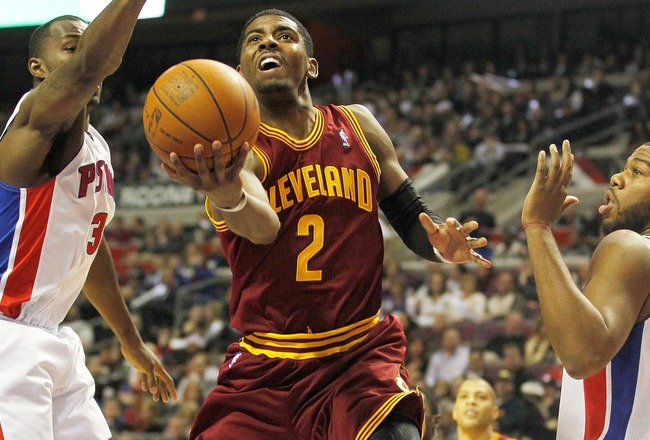 3) Kyrie Irving-- He is 20 years old, and will only get better.19 ppg and 6 assist playing for the Cavs is incredible. There isn't a lot of talent around him, and that will change over the next few seasons. Every night the best perimeter defender is on him and he still leads all rookies in scoring. This guy has stud written all over him. Will be the next elite PG.
4) Rondo-- Love him, but I think Kyrie will be a better overall player in 3 years.
5) Russell Westbrook-- With age and failure in post season, he will learn to pass more. Plus KD and Harden are only going to get better and they will demand ball more as time goes on, as they should.
6) John Wall-- Has to develop a Jumper and make better decisions but those will come with time. Wouldn't hurt the Wiz to put more talent around him and surround him with better attitudes. Trading Nick Young was huge for him going forward. Now Jordan Crawford needs to stop slowing his progression.
Let the debate begin.
--Lee Kunkel