It's time for me to embarrass myself.
First group predictions, then elimination predictions, then award winners.
Group A:
Brazil, Croatia
Hulk and Brazil should get through a
tough Group A.
This is a really balanced group. Host nation Brazil is a major favorite, and wont have to play Mario Mandzukic (Croatia's star striker) in the opener. They surely should come away with at least 7 points and win the group. Mexico vs Cameroon (much like US/Ghana) in their opener is massive. Each team knows that if they lose, they are pretty much done. Should be a fun game. I'll take Croatia to go through the group with the host nation. Ivan Rakitić isn't a house hold name, but he will be after this tournament. Paired with Luka Modrić and Mandzukic (for the final two games), the Croatians have too much star power to fall short.
Group B:
Spain, Chile
Poor Australia. I mean really, the Aussies --usually a team that can fight for that second spot in the group-- are in for a rough month. Spain, the Netherlands, and Chile are all world class teams that share the same goal, winning the tournament. Spain beat the Netherlands in the 2010 final, and Chile has a roster stacked with underrated talent. A key to this group could be the health of Arturo Vidal (Chile). If he's good to go for the Spain and Holland match, Chile can win this group. They can also win the tournament. The Netherlands aren't the same team they were in 2010, and are very shaky at the back. Spain is older, and may run out of gas as the tournament goes on, but should have enough to get through the Group of Death. Give me Spain and Chile.
(Poor Australia, goal differential could decide who goes through, or wins the group, so expect the men from down under to lose by at least three goals each game. Also winning is very important, because the second place team likely plays Brazil in the first knockout game)
Group C:
Ivory Coast, Columbia
Will the Ivory Coast finally break through?
This group may not feature any "elite" teams but man will it be fun. All four teams have a solid shot to get out of the group. Columbia --who will not have their best player, Radamel Falcao due to an ACL tear a few months ago-- is the favorite despite the injury. They, like Chile, have a ton of talent and should benefit from playing on South American soil. I don't think Greece will score enough, and I'll take Yaya Toure and the aging but still talented Ivory Coast squad to have too much size for Japan (who have a very skilled midfield in Honda and Kagawa, but not a lot of D). The race for both spots will likely come down to the final day. This might be the most balanced group in the field.
Group D:
England, Italy
England is known for laying an egg in the big tournaments, but I like this team a lot. They have world class skill, youth, a strong D led by Joe Hart, and something they aren't use to having. Little expectations. I think they find a way to win this star studded group. Italy is one of the European teams that I worry about coming over to South American, but I would like to think their trip to the Confederations Cup will help. Uruguay worries me. They are very old, and didn't play all that well in World Cup Qualifying. More worrying then that, the health of Luis Suarez. He is one of the top 5 players in the world. With him, Uruguay can make a deep run. Without him at 100 percent, they will struggle. He probably won't play a huge role in their opener, but thankfully for them they play Costa Rica, a team that will be lucky to leave Brazil with more then one point. This will be another fun group, and could come down to goal differential.
Group E:
France, Switzerland
One of the easier groups to pick in my opinion. I like this France team. They took the 23 best team players instead of the best 23 (even though I love me some Samir Nasri). Paul Pogba will dominate this tournament. He's a beast. The Ribery injury hurts, but Antoine Griezmann will fill in and do just fine. Easy group, and France is due to make a run this year. The Swiss should come in second over Ecuador. They are a solid team with a great D and strong midfield. Ecuador played great at home in qualifying (Playing 28347321832765734658394624723198 feet about sea level) but struggled elsewhere is SA, so it may not be a huge advantage compared to other SA teams. Honduras stinks. They lost 4-2 to Israel just a few days ago. Not good.
Group F:
Argentina, Bosnia
Another straight forward group. Argentina is loaded, led by Messi, Sergio Aguero, and Gonzalo Higuaín. Every game for them will fell like a home game playing so close to home. This group is easy too. Bosnia is a good side, but comes over from Europe and has never played in the world cup. That's a big disadvantage. They still have a very good team led by Dzeko and will be a threat for second. Nigeria will likely compete with them, but I'm not all that impressed with them. Maybe a strong start to the tournament over minnow Iran will jump start them. The game between Nigeria and Bosnia will be a fun one with a ton on the line.
Group G:
Germany, USA
Another balanced group where anything can happen. I detailed why I think the US will get through in my US piece so check that out...Anyway, Germany despite some injuries is still the odds on favorite and could win the tournament. They will get at least 7 points and should win the group. The US needs to get four points from the first two games and hope they can squeak a point vs the Germans -or lose by one goal-- and go through on goal differential. This group is one of few where all four teams have a good shot to get through --along with C-- so it will likely come down to the last day. If Portugal can adjust to the conditions, and Ronaldo is Ronaldo, the Americans are in trouble, but I don't think Portugal has enough time get him back to 100 percent and adjust to the conditions in time. US/Ghana winner could decide it all.
Group F:
Russia Belgium
I think Belgium could make a very deep run, but I also think they could struggle early in the tournament. A lot of these predictions are somewhat "chalk" but here is a mini bold pick. The Russians find a way to win the group on goal differential. Both get seven points as South Korea and Algeria wilt out early. Maybe deep down someplace in my brain I'm thinking this because I want the US to have an easier opponent if they come in second, I don't know. But this would certainly be a surprise.
Knockout Rounds:
Round of 16: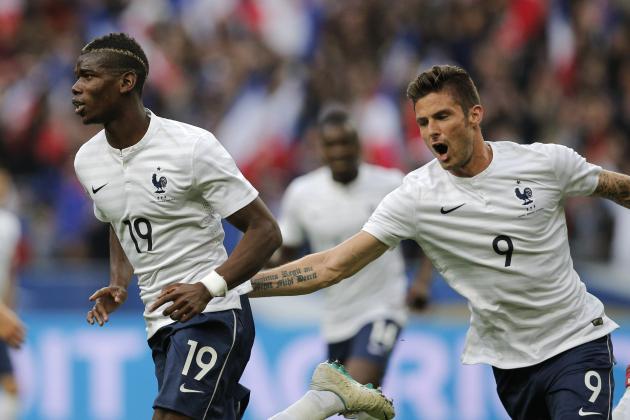 Could France make a run??
Brazil over Chile, Ivory Coast over Italy, Spain over Croatia, Columbia over England, France over Bosnia, Germany over Belgium, Argentina over Swiss, USA over Russia.
Some surprises here on paper. This is the last hoorah for this golden generation for the Ivory Coast, and I think Toure will help them sneak past Italy in a classic game. If the US gets Russia, I like their chances, if they get Belgium they are done. Hopefully they play one of the two though, thats my only wish (GET THROUGH THE GROUP BOYS!). Many would be a bit surprised to see France in the final eight, but I really like their team and youth.
Round of Eight:
Brazil over the Ivory Coast, Spain over Columbia, Germany over France, Argentina over USA
Pretty much all chalk here, but man this would be awesome. The best four teams left. Two best South American teams vs the two best Euro teams.
Semifinals:
Brazil over Germany, Argentina over Spain
Talk about GREAT TV. Two monster games filled with stars, goals, and story lines. Brazil on home soil will be so tough for a Euro based team to best. They are on a mission, and we saw a glimpse of how they would deal with such a situation when they ripped apart Spain in the confederations cup final last summer. In the other game, I like Argentina to outlast Spain in a classic 4-3 game. So much talent. Messi would have even more motivation (as if he needs more) if we went against many of his Barca teammates for a spot in the final. Will Spain even last this long? Old legs.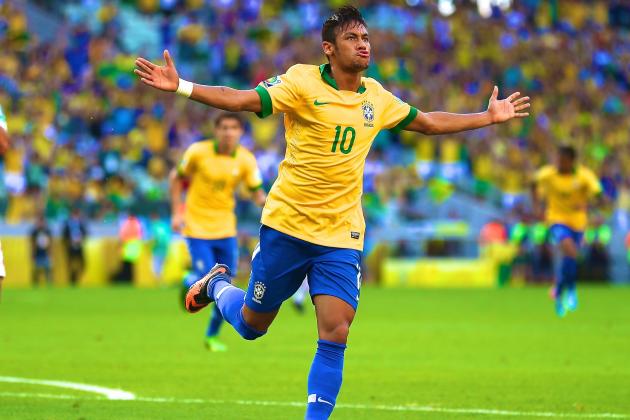 Will Neymar deliver for Brazil? I think so.
Final:
Brazil over Argentina 3-2
Higuain slots home to open up the scoring and Argentina takes a 1-0 lead to the half. Messi scores a second just out of the break to go up 2-0. Brazil then makes its run as Hulk scores two and ties it up in a 15 minute span, the second coming in the 77th minute. Argentina presses for the winner and Brazil launches a counter with Neymar scoring the winner in the 89th minute. ENJOY!
Golden Boot:
Aguero, nine goals.