--Lee Kunkel
--@Kunkel5
(Today, I'm posting my USMNT preview with the World Cup just two days away!!!!! I'll have a broader preview and predictions out tomorrow on the tournament as a whole.)
The greatest spectacle in sports is upon us. It's been a long four years since South Africa 2010 and much has change around the globe, on and off the soccer field, but that tournament, the first on African soil, will be one I will never forget.
Pandemonium!
(NY Mag)
I liked soccer entering June of 2010. I LOVED it when the calender turned and July had passed (along with the tournament in which the Spaniards took home the crown).
If you're an American soccer fan --whether it be a die hard like myself, or a novice like the June 2010 Lee Kunkel-- the date June 23rd, 2010 was one for the ages. Landon Donovan gave us what many consider the greatest moment in US Soccer history with a late winner against Algeria that propelled the US into the knock stages.
Not only do I remember the goal, I remember EVERYTHING around me. Great times, great times.
Now the USA needs to build on it in Brazil. So let's get to it!
Roster, Group Outlook, Program Outlook
When the US roster was released, it was more about who wasn't on it then who was. Jürgen Klinsmann shocked just about everybody when he cut Landon Donovan from US camp and left him off the World Cup roster.
My thoughts? There isn't a universe --whether it be back in 2010, now, or two weeks from now-- that Brad Davis is a better soccer player then Donovan. BUT, JK's job is not to name the best 23, it is to name the best team. Donovan wasn't part of that group.
End of story
(Oh, he also quit the team at the start of WC qualifiers, seemed to clash with JK since his days a Bayern Munich, and has openly admitted he isn't in great shape because of his age).
As for the guys that are going to Brazil, I couldn't be happier. This is, far and away, the best collection of players the United States has ever taken to a World Cup.
Much of the USA success will depend on Bradley.
That's a good thing.
It all starts with Michael Bradley. Make no mistake about it, and don't be fooled by the MLS move (for a tonnnn of cash and "you're THE man" role at Toronto FC) Bradley could make the roster for every country in the world, and play for any club team in the world. Not saying he would start or have a massive role for Brazil or Manchester City, but he could play. He's the best individual player the US has ever taken to a World Cup in my opinion.
Around him are some great pieces.
Jozy Altidore (who had a down right awful season at Sunderland) seems to have his confidence back. He scored two goals in the USA's win over Nigeria this past weekend, and has played great his last two games. Jozy always plays a lot better for his country, and last year broke a long scoring drought at the start of the summer against Germany. He then went on a tear scoring in five straight games for the US, three in WCQ, and scored an incredible hat trick at Bosnia.
People forget he is just 24 years old, and already has 70 caps, 23 goals, played a huge role in the Yanks win over Spain (2009 Confederations Cup) and played in a World Cup (2010). No striker has scored for the US in the World Cup since Brian McBride carried the US in 2002. I think that drought is over in Brazil, thanks to Jozy.
The rest of the squad it littered with MLS stars and some great European club based talent. Out of the MLS group, expect captain Clint Dempsey (who is in great form for the Seattle Sounders) Graham Zusi, Matt Besler and Kyle Beckerman to all have big roles for Jürgen Klinsmann. All could play in high level leagues throughout Europe. Guys like this (and Omar Gonzalez/Brad Davis/Chris Wondolowski) have stayed home and really helped elevate the stateside league.
The player that has everyone talking currently is German-American Fabian Johnson. He has been on a tear for club and country as of late. The Bundesliga product has found a home a right-back, and is great at launching the attack, but can also track back and help the defense. He will be instrumental in Brazil, and is the second most important player behind Bradly.
Anchoring the defense will be Everton goalie Tim Howard (who just played his 100th game for the US this past weekend). Howard is in coming off his best season ever, and is in the prime of his career. One could argue he is a top 10 goalie in the world at this very moment. In front of him will be another Barclays Premier League product, Geoff Cameron. The Stoke man had a great season and should pair nicely with Besler.
Jermaine Jones will join Beckerman and Bradley in the midfield. He doesn't always make the smartest decisions, but he's a guy who plays as hard as anyone, can get forward and spring the attack, and will track back and halt a counter. The US needs a big tournament from Jones if it wants to have success.
The rest of the roster has some very good talent and balance. Ale Bedoya had a nice season in the top French league for Nantes and could start a few games in Brazil. He is a nice outside midfielder that can play both sides of the ball. John Brooks and Timmy Chandler --two other German American's-- could be huge off the bench. They both had strong campaign's --particularly Chandler-- in the Bundesliga.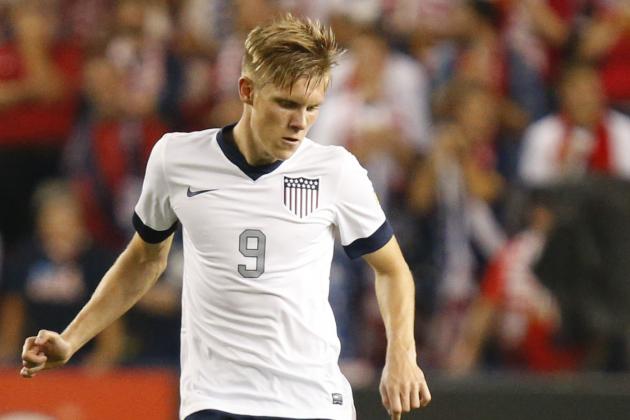 The young Johnnsson could be just the wild card the US needs.
Aron Jóhannsson, Mix Diskerud, DeAndre Yedlin and Julian Green are all youngsters that could have an immediate impact like Donovan and DeMarcus Beasley (who is back for his forth World Cup and could start at leftback) had for 2002 team.
Overall, this a very talented group of guys, with a nice mix of youth, speed, talent, and experience.
Now to the group.
Ughhhh :(
For as nice as the soccer Gods were to us in 2010, they were equally as mean and nasty this time around. I won't sugarcoat it, the US *could* play three near perfect matches, and lose all three games. It's that hard.
Germany is one favorite to win the tournament. Portugal has the best player in the world. Ghana has eliminated us from TWO straight World Cups and might be the best team from Africa. But, as my loving dear mother once told me, "things can always be worse Lee Thomas..."
Once again, Mom is right.
The US could be in group B with Chile (a loaded dark horse playing on home continent soil), Spain, and the Netherlands (the two teams that met for the 2010 title). Not a chance in hell we make it out of that group. So it's not all doom and gloom.
Truth be told,
we're
the reason this group is so hard. We were the best team from our pot, so we were always looking at a difficult road. But that's just the thing, it's the World Cup. It isn't supposed to be a cake walk. And quite frankly, I think the US will get out of this death trap.
Massive game, both team needs 3 points.
Start with the first game June 16th vs Ghana. Disregard the past history vs the Black Stars. Should the 38th ranked team in the world (though fifa rankings are so stupid) really scare us? I don't think many would be all that terrified of Ghana if the history was not there. Four years is a long time. Ghana is a solid team (much better then their ranking shows) but not near the team they were in 2010, and they aren't as good as the US. They are very susceptible at the back. The US will get chances. If the Yanks don't turn it over in their half (Ghana kills team by pressing and getting the ball close to their goal, and hits you on a quick counter), US 2-1.
Then there is Portugal (ranked fourth, but like Ghana that is inaccurate). No way they are
that
good. Cristiano Ronaldo is a star, and if he's really on, Portugal can win this whole tournament (See the playoff against Sweden PUT THE TEAM ON MY BACK BRO). If he's not on though....(They barley got past Sweden, a team that doesn't have much outside of Ibra).
Not to mention, Portugal is the type of European team that could really struggle in South America, particularly against the USA. That game will be played in the middle of the Amazon in Manaus. High 90's, insane humidity = massive advantage for the Yanks.
CR7 has been battling a variety of injuries, hasn't played in any of Portugal's friendlies, and won't be in top shape when the tournament kicks off in a few days. He looked very pedestrian in the Champions League final a few weeks back (his play, not his muscles, which he showed to the whole world). This is one of my bold predictions, I think Portugal flames out and finishes last in the group.
JK and the crew hold possession (Portugal will give you the ball because they like to get out and counter with Nani and CR7) and wear down the Portuguese. As the game wears on, they wilt, and the US gets a late goal to win it 1-0. A draw here may even do too.
As for Germany, not much to say. They are stacked. If they want to tear up the US (or Ghana and Portugal) they likely will. Losing Marco Reus hurts, he was maybe their best player, but they plug Ozil (Arsenal) Kroos (Bayern), Gotze (Bayern), Lahm (Bayern), Schürrle (Chelsea), Müller (Bayern) or their next young stud, Draxler (Schalke) into the lineup. Just an embarrassment of riches. I guess it may help the US that they play Germany last. Maybe they take it easy on us and rest some guys with the group wrapped up. All I know is the US better not wait until it's last game to make a move.
My Pick:
Second in the group, but another tough game in the round of 16 vs Belgium, who beat us 2-1.
Best case:
Finish second in the group, hope to get an upset in group H and play Russia, make a run to the final eight (where Messi would likely take on the US).
Worst case:
No points in what amounts to too tough of a draw.
Program Outlook
As Americans (or maybe humans as a whole, I've never been thrust into another countries sports culture) we tend to overreact. A lot. Look at the NBA Finals just this season. Game 1: LBJ is a bum who can't hydrate and the Heat are done. Game 2: The King is going to carry Miami and the old Spurs are donzo.
Same goes for the World Cup. While I'll agree that every player, coach and team is judged on their performance in this tournament, we can't put
too
much weight on it, especially given the group.
Hard to argue Klinsmann's success
to this point.
In the past four years under Jürgen Klinsmann we have won at Mexico, got a point at Mexico in WCQ, topped the Hex with ease (winning every home game), won the Gold Cup, grew the player pool to a point where the best American player of all time isn't on the WC roster and it's justifiable, beat the Italians (away), Bosnian's (away), Germans, Nigerians, and Turks, tied the Russians (away) and went on the longest win streak in USMNT history.
It's been a great four year cycle and things only look better on the horizon. The 2018 roster
could
be stacked with top level euro league talent (Julian Green!!). The MLS is growing in success and popularity (Spain and Brazil will have an MLS player on their roster, and both should feature in the tournament). The media actually covers soccer like a major sport.
Do I hope the World Cup performance reflects all of this? YES. But that may not be the case. If we come home with just one point (Gulp, or less), please America, don't throw out the past four years. The future is bright. (PS, this also goes the other way too. If we make a surprise run to the semifinals, we aren't all of a sudden a top four world power)
As I wrap things up, clear your calenders for next Monday around 6pm, grab your favorite American beer, gather your friends, and get ready for a stressful but amazing two hours.
"Go Go USA" as my man Ian Darke would say.